Ontdek en blader door onze volledige catalogus van bureaus.
Plaats nu een nieuw project om bureaus te vinden die aan jouw wensen voldoen.
Laat onze sectordeskundigen u helpen het meest geschikte bureau te kiezen.
Ontdek onze bureaus
Zoek in een database van 38K getalenteerde dienstverleners en werk samen met de beste mogelijke voor uw specifieke behoeften.
Laat agentschappen naar u komen
Beschrijf uw behoeften in een korte briefing met uw eisen. Stuur het naar de agentschappen die wij u voorstellen en wacht op hun antwoord.
Een eenvoudig, snel en dynamisch proces
Uitgebreide en actuele marktinformatie
Persoonlijke ondersteuning
Lees meer
Onze adviseurs begeleiden u naar het juiste agentschap
Laat onze sectordeskundigen u helpen het meest geschikte agentschap te kiezen en uw idee om te zetten in een succesvol bedrijfsproject.
Lees meer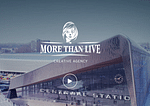 ---
More Than Live
Rotterdam, Nederland
EMBRACE CHANGE. LOVES RESULTS.  Welcome at More Than Live.  we can help your brand with; STRATEGY DESIGN Improve your customer's experience Change can result in a lot of things. It could result in a great opportunity or a threat. To improve (or defend) your position in business, you'll have to adapt to the environment. Strategy Design makes sure your business adapts to the new reality by reshaping and reinventing your business strategy.We redefine your business essentials and we design the best route for short- or longterm success. In co-creation, we add creativity to the process. Our proven business strategy scenarios connect insights, values and powerful innovations. Srategy Design is a powerful approach that has been proven useful for many corporates. THEME CAMPAIGNS We raise brand awareness.  A re customers aware of the existence of your brand? A brand without an activation campaign won't survive. Consistent campaigns are crucial for a brand's survival. Whether it is on TV, online, print or at the store. Bingo! You are at the right spot for creditable campaigns. Our specialists are often awarded for creative campaigns. Unilever, Liptop Ice, Holland America Line, T-Mobile, Rabobank and Saint-Globain have been trusting us for over 14 years with their beloved brands. We love results. That's why we like to test our creative campaigns. We apply neuromarketing principles to develop ads and campaigns. Understanding the effects of creative work and human interaction makes the difference. BRAND DESIGN A brand with soul A brand must have a strong spirit. Is it appealing and gaining trust? Can customers identify with the sparkle of your brand? No? Then there are two options: find new customers or redefine/redesign your brand identity. A regular check-up for your brand is essential to determine if it's still vital. Change is inevitable.What is the valuable idea that creates a soul for your brand? By redefining and redesigning your brand identity, we can give your brand a unique spot in the head of the consumer. After all, products are for sale. Brands are handpicked by customers. SERVICE DESIGN Improve your customer's experience L oyal customers are important to a business. They speak highly of your brand. That's the most ideal situation for a brand manager. Unfortunately, the reality is less flowery. Your customers might experience discomfort. Only an astounding service experience can relief the customer's dissatisfaction. The design process for an outstanding service design starts with analyzing your customer journey. From all available communication channels we collect data, apply creativity and build an excellent service experience for your customers. It's our passion to create fans out of customers. Your brand is defined by all the experiences a customer has with your brand. The more compelling the experience, the faster you will build brand loyalty. BRAND EVENTS Create the experience To create fans for your brand, you'll need to create an overwhelming experience. Create priceless memories around your brand that will last a lifetime.Our creative agency has a lot of knowledge in building a brand experience that activates the customer's involvement. Fans bring loyalty and loyal customers are the foundation of a healthy business.Keeping a loyal customer is seven times more effective than attracting new customers. Digital Potential Digital experiences  It is impossible to seize any opportunity. This is often the pitfall in the digital world. The potential is everywhere and it can be hard to choose a direction. Which online channel converts best? A omnichannel could offer the solution. We combine mobile, in gaming, apps, site or social media for an optimal result. Choosing the right direction is a matter of focus and patience. How can we make the life of your customers more comfortable and more challenging in a digital matter? How can we improve their digital experience? Embrace change. Loves results.
Nog geen reviews
Wees de eerste om er een te schrijven
---
Diensten
6 diensten aangeboden door More Than Live
Naam van dienst
---
Gerelateerde beoordelingen
---
Vanaf
---
---
---
Team
12 leden in More Than Live's team
---
Prijzen
More Than Live heeft 1 award gewonnen
Effies
2010-08-31
automotive
---
Reviews
Nog geen review voor More Than Live
Gewerkt met More Than Live?
Deel je ervaring met ons.
---
Contact
Contact gegevens van More Than Live
Details
---
http://www.morethanlive.nl
---
Hoofdkantoor

Delftseplein 24, 3013 AA Rotterdam, Netherlands
---